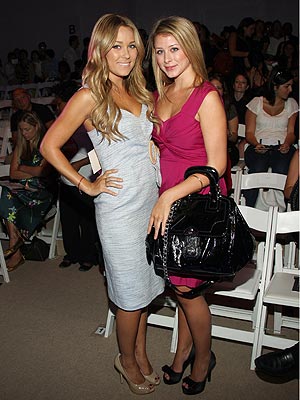 My favorite castmember of The Hills (more about that later), has become Lo in the last few episodes. Why? She's most similar to me. She's sweet, smart, classy, and looks nice. I like her style very much, and she actually seems REAL to me. Besides, she's just as much in love as I am, which I like to see. (Not some phoney, omygawd I don't think I should call back-relationships)
Recently I've stumbled across The Lo Down, her website. I really like to sit down and read it, because she comes across as a nice fun girl, with good advices :). Thought I would pass it on for ya! She's also coming out with a book, but I don't think I will buy that one...
www.thelodown.com
xoxo
Ps. About the Hills finale: who else was dissapointed a bit? I did not believe Kristin would go to EUROPE for one bloody second. Because she never mentioned WHERE in Europe she was going. Europe is NOT a county, it has over twenty countries.. so there's quite a lot to choose from. I never believed she would go, and I hated the plot line with Brody (one of those fake relationships mentioned above). I did like the storylines of Steph, Audrina and Lo though :). I was sad to not see Heidi return, that kinda ended weirdly.